The Inkabi Big Zulu find himself trending gin after his Picture wearing a shorts start to trends in social media. Big Zulu is popular known for his role in Uzalo left everyone talking. It appears that not everyone is happy to see him wearing a short.
Big Zulu were spotted standing with Uzalo actor popular known as Sibonelo (Wiseman) and The Wife actor Mondli standing next to his gate. Judging by the look it seem like Wiseman and Mondli were the one who visited him in his home. Big were seen by his fans who are not happy with his legs. Many have reacted at the color of his legs which has rose too many questions.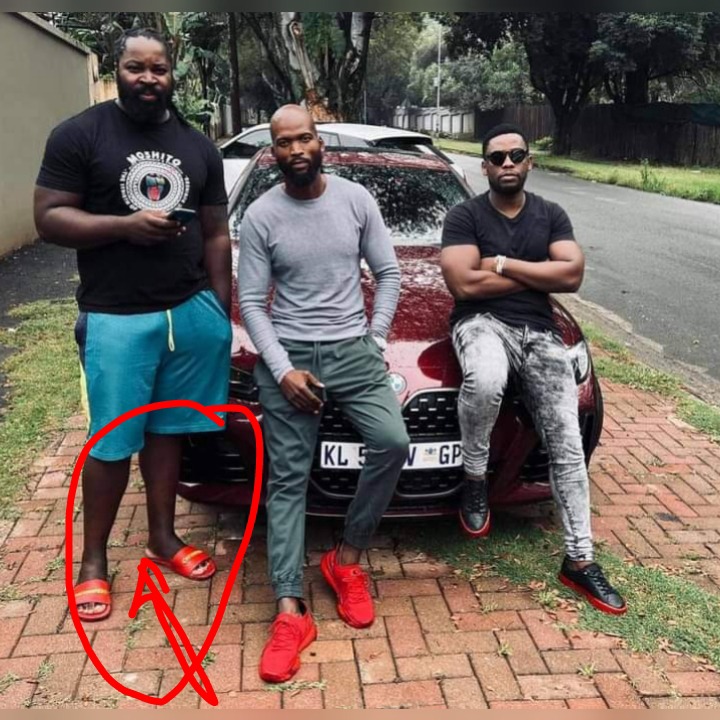 One of commentor were really not happy saying that he is rich but his legs dies nit seem like someone who have money and rich. The way he was spotted wearing is the other reason why his fans were not happy. Big Zulu has been seen many times wearing a shorts and he is not afraid to show off his true himself. Not long ago he was spotted in a airport wearing a short trouser with a sneaker. But this time it was different as he was standing at the gate of his home. One thing that people does not understand is that he was not going out so there is no need to look nice. Some other fans has been saying that this is the other reason why they hate short pants because it display unnecessary attention.
Big Zulu is one of successful rapper in the country who owns Inkabi recording labels. Each year he grooms young musicians who want to pursue their careers in the music industry. Those who have been following him would have noticed that the only brand he wear is brandwood which he is an brand ambassador. He is also brand ambassador of Cavela.
See comments below: