Social media has been buzzing after the well known influencer Duma Ntando publicly asked for a boxing match with Natasha Thahane. Ntando Duma is a popular South African actress who got famous after her role of Zinzi on Rhythm City. She has also featured on another casts including the Queen where she used to portray the character of Mpho acting alongside the veteran actor Rapulana Seiphemo. She is one of the young vibrant and courageous celebrities in Mzansi who are making it successfully in the entertainment industry. Besides being an actress she is also a social media influencer.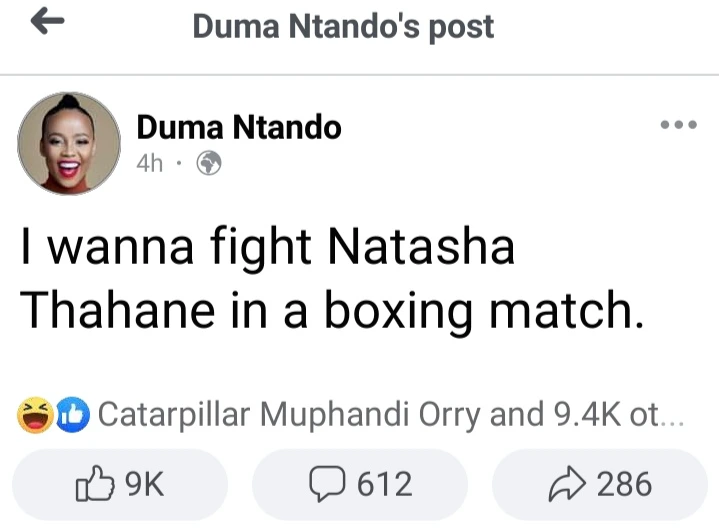 People were shocked today after she publicly asked for a boxing match agaisnt the well known South African actress Natasha Thahane. She went popular after her role of Enhle on Skeem Saam acting alongside Cornet Mamabolo. South Africa knows that the two celebrities used to be friends but there came a time where their friendship suddenly ended. They used to be very close and would celebrate milestones together but it ended in tears as both decided to go to the separate way.
Duma Ntando posted on facebook and asked for a boxing match agaisnt Natasha today but she ended up embarrassing herself. Masses are saying the Natasha is too busy to be entertain her things and she has better things to do with her time. They say she can rather focus on doing something else than giving Ntando unnecessary attention.Others are saying that it will end in tears because Natasha will immediately knock her out. They say she does not have what it takes to face Natasha but she she can rather try to face the likes of Makhadzi and Babes Wodumo. It seems like the people are not really approving that match. What is your view on this matter?