Just recently, Connie Ferguson's daughter, Lesedi Matsunyane took to her Instagram to serve us some well deserved sauce that has seen the internet go wild. If there was ever a doubt at how beautiful Lesedi is, then trust me, her recent postings on the platforms has put those doubts to shame.Read also: Lesedi Matsunyane Ferguson Steals Our Hearts
Taking to her Instagram, Lesedi posted a video where she is quite literally flaunting her enticing eyes, with the caption, "Look into my eyes, doesn't that feel nice?"
Her fans and loyal followers have shown up in numbers to comment on how beautiful she looks and not only that to affirm that her eyes really are as enticing as can ever be.
What however has not missed the attention of Mzansi is when Connie herself commented on Lesedi's video, and let's just say that she is not sounding all too pleased.
Seeing this comment by mom Connie has caused fans to have a field day in the comment section. Most of the comments as you can imagine are pure comedy! Lesedi herself has only gone ahead to respond to her mom with an, "Whoop! gotta go!" Like I said, pure comedy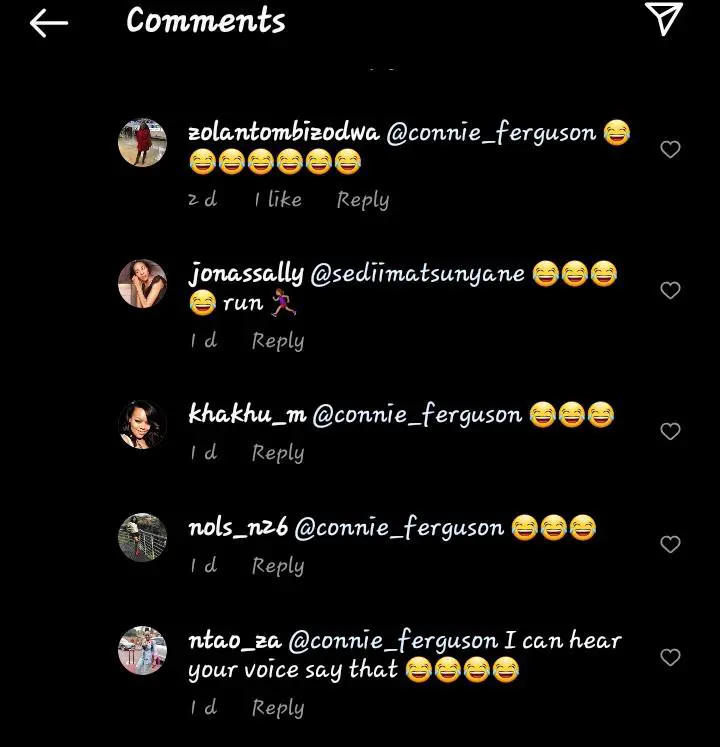 And while many of her fans have also come to her rescue the rest are simply rolling laughing off the whole scenario. See? This is what happens when you and your parents follow each other on Instagram. So tell us, Lesedi, who were you trying to hypnotize?
That aside however, her previous post on Instagram is also gaining a lot of attention with most of her fans noticing her great resemblance to her mother Connie Ferguson and we have to agree she is even more beautiful than mom Connie and we love to see it.